INFORMATION REGARDING COVID-19 (NOVEL CORONAVIRUS)

** IMPORTANT ** If you are in Chile or Ecuador and seeking to return to Australia, please register your details with us and keep them up to date.

We advise all Australians not to travel at this time. If you're already overseas and wish to return to Australia, we recommend you do so as soon as possible.
Due to the COVID-19 pandemic, the Embassy has had to adjust to local regulations on social distancing and self-isolation. Our ability to provide consular services may be limited due to restrictions on our movement.
- 24 hour emergency consular assistance: + 61 2 6261 3305
- Consular hours (for Australian citizens): Monday - Friday from 08:30am - 12:00pm
- For non-urgent inquiries, email [email protected] or visit www.smartraveller.gov.au
- While it may take us a while to respond to emails, you can still write to us at [email protected] (we have generated an automatic response which answers some of our most frequent queries)

Information for Australians currently in Chile and seeking to return to Australia
- Follow the advice of the Chilean Government and try to minimise your risk of exposure to COVID-19. Obey curfews and other instructions from the Chilean authorities.
- Beginning Sunday, 22 March, the Chilean Government has established a curfew between the hours of 10 pm to 5am throughout the country.
- If you need to travel to the airport during the curfew period, you must carry your boarding pass (digital or paper) and passport with you as "safe passage/salvoconducto". The same requirements applies to drop off or pick up a passenger.

Information for Australians currently in Ecuador and seeking to return to Australia
- Beginning Wednesday, 25 March, the Ecuadorian government has established a curfew between the hours of 2 pm and 5 am nationwide. Obey curfews and other instructions from the Ecuadorian authorities.
- By providing your details via the form above, you will enable us to provide you a safe passage letter ("salvo conducto") to be carried with you if you need to travel for essential reasons, including to move to a major city or airport. The form should be filled out, signed, carried with you together with your passport, and sent to [email protected] (we understand a photo is ok).
- Follow Quito Airport on Twitter for updates about potential repatriation flights to North America and Europe.
- Contact details for airlines in Ecuador.
Potential flight options for Australians to depart Ecuador
The Australian Embassy is aware of the following potential flight options for Australian citizens who wish to return to Australia. You should contact airlines directly to seek a reservation. The situation is changing rapidly and these options may change at short notice.
– Repatriation flights operated by United Airlines from Quito to Houston, with tickets potentially available from Ecuador to Australia. Bookings can be made through www.united.com. Contact: 1800 000 735 or (593-2) 2987 300.
– Repatriation flights operated by TAME from Quito to Fort Lauderdale. Contact: [email protected], 1700 500 800 or (593-2) 396-6360.
– Relief flights operated by Go Eastern from Guayaquil to Miami, including on 27 March. Further information: https://book.goeasternair.com/en
IMPORTANT: For all three of these options you will need to meet US entry requirements, including an ESTA to enter under the Visa Waiver Program (approval can take up to 72 hours) or a US visa, and an onward flight booked out of the US.

Australians in the Galapagos Islands
- Provide your details to Galapagos authorities to register your need to return home via commercial flights.
- Join and monitor the Whatsapp group created by Galapagos authorities to provide updates about flights departing from.
- Seek a mandatory health check from authorities prior to flying.
Restrictions on travel to Australia
From Friday, 20 March at 9pm AEDT, Australia will not allow the entry of people who are not citizens, residents or their immediate families. This is a necessary further measure to slow the spread of COVID-19. Australians can return home but will be subject to 14- day isolation. Further information is available here.

Restricciones de viaje a Australia
Desde el viernes 20 de marzo a partir de las 9 pm AEDT, Australia no permitirá la entrada de personas que no sean ciudadanos, residentes o sus familiares directos. Esta es una medida adicional necesaria para frenar la propagación de COVID-19. Los australianos pueden regresar a sus hogares pero estarán sujetos a un aislamiento de 14 días. Mas information aqui.
Debido a la pandemia de COVID-19, la Embajada ha tenido que ajustarse a las regulaciones locales sobre el distanciamiento social y el auto-aislamiento. Nuestra capacidad de proporcionar servicios consulares pueden ser limitados.
- Asistencia consular de emergencia las 24 horas: + 61 2 6261 3305
- Horario consular (para ciudadanos australianos): Lunes - Viernes de 08:30am - 12:00pm
- Para consultas no urgentes, envíe un correo electrónico a [email protected] o visite su sitio web www.smartraveller.gov.au
¡Bienvenidos al sitio web oficial de la Embajada de Australia!
Encuentra aquí el mensaje de bienvenida del Embajador de Australia, Sr. Robert Fergusson; e información general sobre los avances en las relaciones bilaterales entre Australia y los países concurrentes: Chile y Ecuador.
Para más información sobre las oportunidades educativas en Australia, visite nuestra página sobre estudiar en Australia.
Para información sobre el turismo en Australia, visite el sitio web de Tourism Australia.
Para viajar a Australia, se necesita una visa. Revise nuestro portal sobre visas.
Novedades/News
Alumni Awards 2019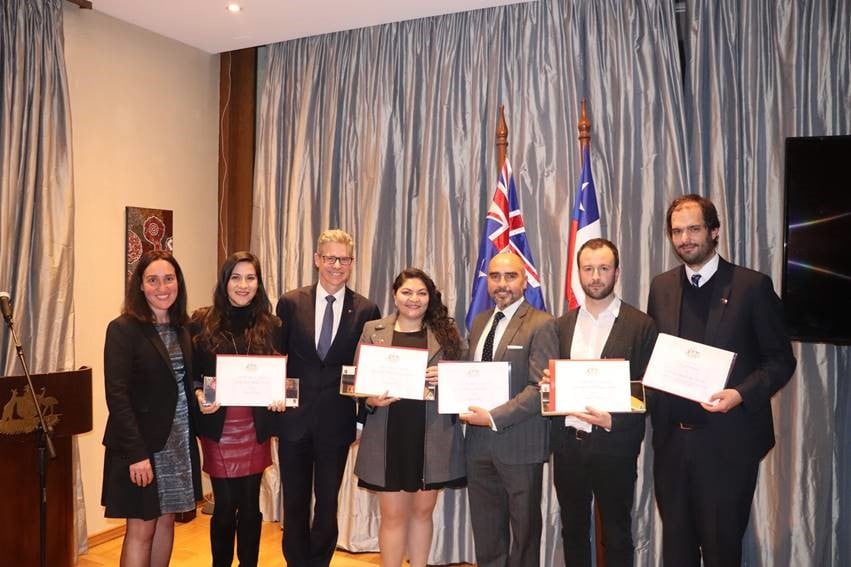 El pasado 27 de junio, el Embajador tuvo una recepción en la residencia para reunirse con ex alumnos de instituciones australianas, fortalecer la comunidad, crear redes de contacto y premiar a los más destacados en diferentes categorías. Ha sido un placer para nosotros haber compartido con todos nuestros ex alumnos y escuchar todas las asombrosas historias luego de su paso por Australia (seguir leyendo).
Recepción de ex alumnos en Quito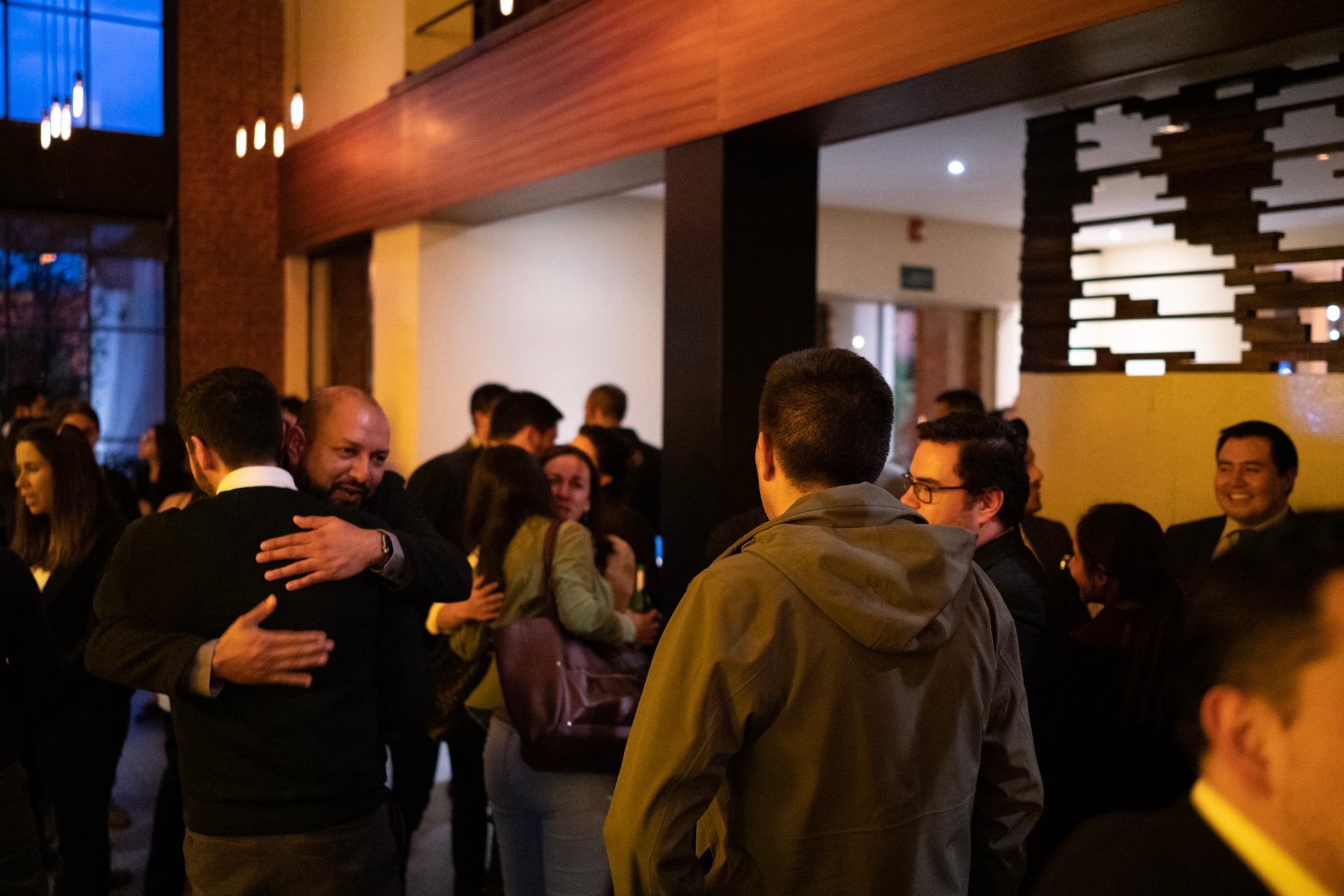 El pasado 21 de mayo, con el objetivo de fortalecer la comunidad de ex alumnos de Ecuador y crear una red de contactos, la Embajada de Australia llevó a cabo un cóctel de ex alumnos de universidades en Quito, Ecuador (seguir leyendo).
Anzac Day 2019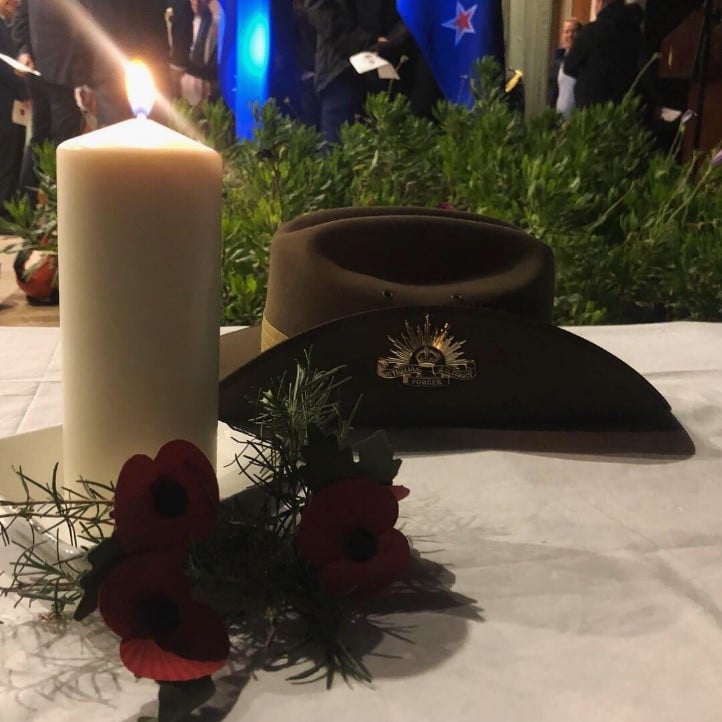 El día de Anzac es uno de los días nacionales más importantes de Australia que se celebra todos los años el 25 de abril y conmemora a aquellos soldados australianos y neozelandeses que sirvieron en guerras, conflictos y misiones de paz. El día es el aniversario de la primera acción militar de los soldados de Australia y Nueva Zelanda en la Primera Guerra Mundial, que unidos a Gran Bretaña, desembarcaron en Galípoli, Turquía en 1915 (seguir leyendo).
Celebración del Día de Australia 2019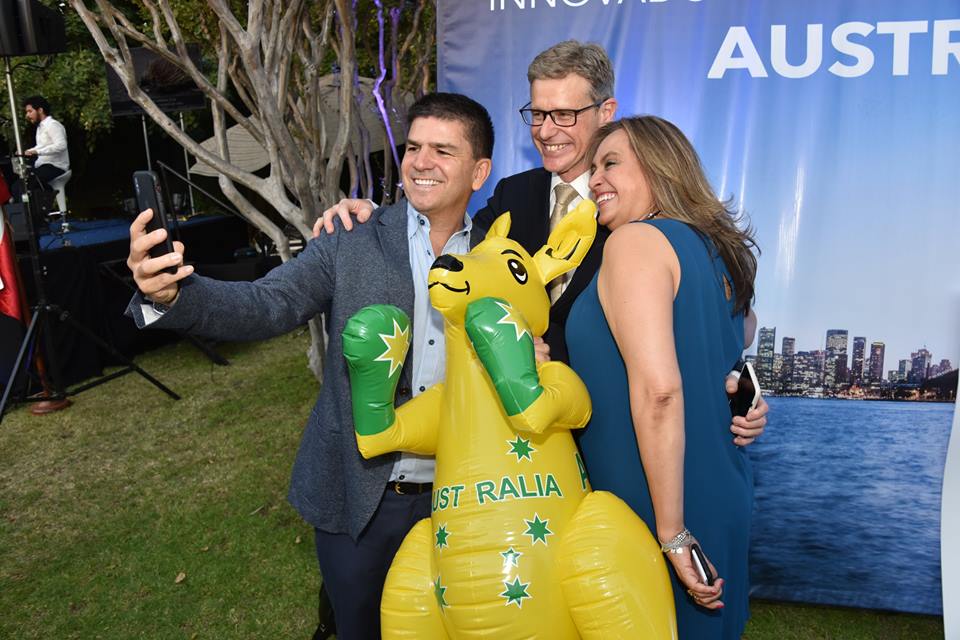 Celebramos el Día Nacional de Australia en Santiago de Chile con más de 500 invitados el pasado miércoles 23 de enero. Una gran noche en la que tantos chilenos, australianos y otros amigos disfrutaron la celebración con gastronomía y cultura australiana (seguir leyendo).
Recepción para ex-alumnos de universidades australianas del 'Grupo de Ocho'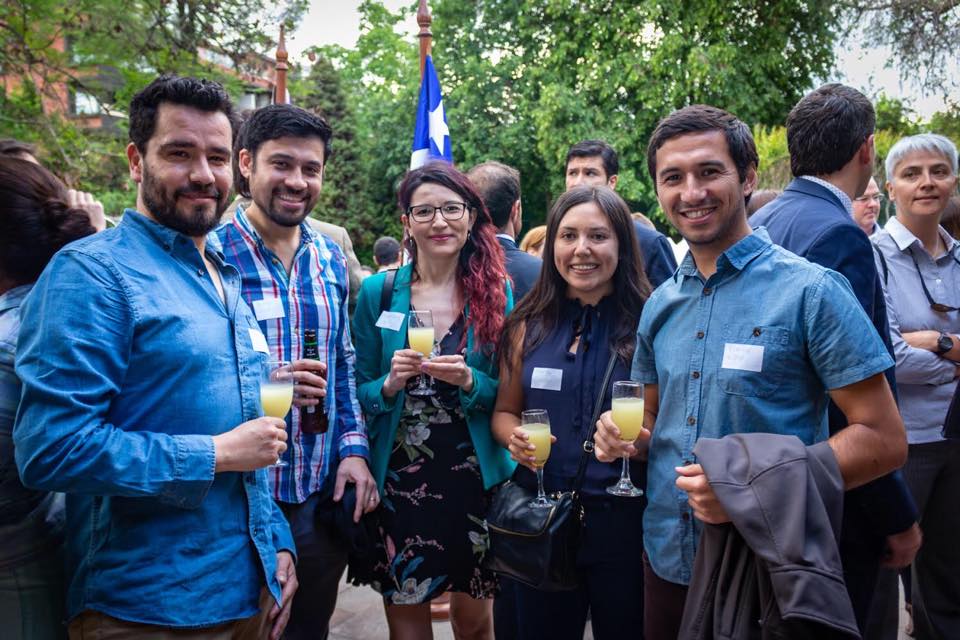 El 16 de noviembre, el Embajador tuvo una recepción en la residencia oficial para exalumnos de seis de las top universidades de Australia. Agradecemos a los representantes universitarios del Grupo de los Ocho que hicieron el viaje a Chile y a todos los ex alumnos de Australia que se unieron para una noche de redes y entretenimiento (seguir leyendo).